FV Legacy was officially Launched 21/2/2012. The name "Legacy" has been chosen in recognition of the legacy that Frank Stark left us all when he passed away on 21/5/2008 having created successful Boat Building, Ship Repair, Transport, and Commercial Fishing businesses.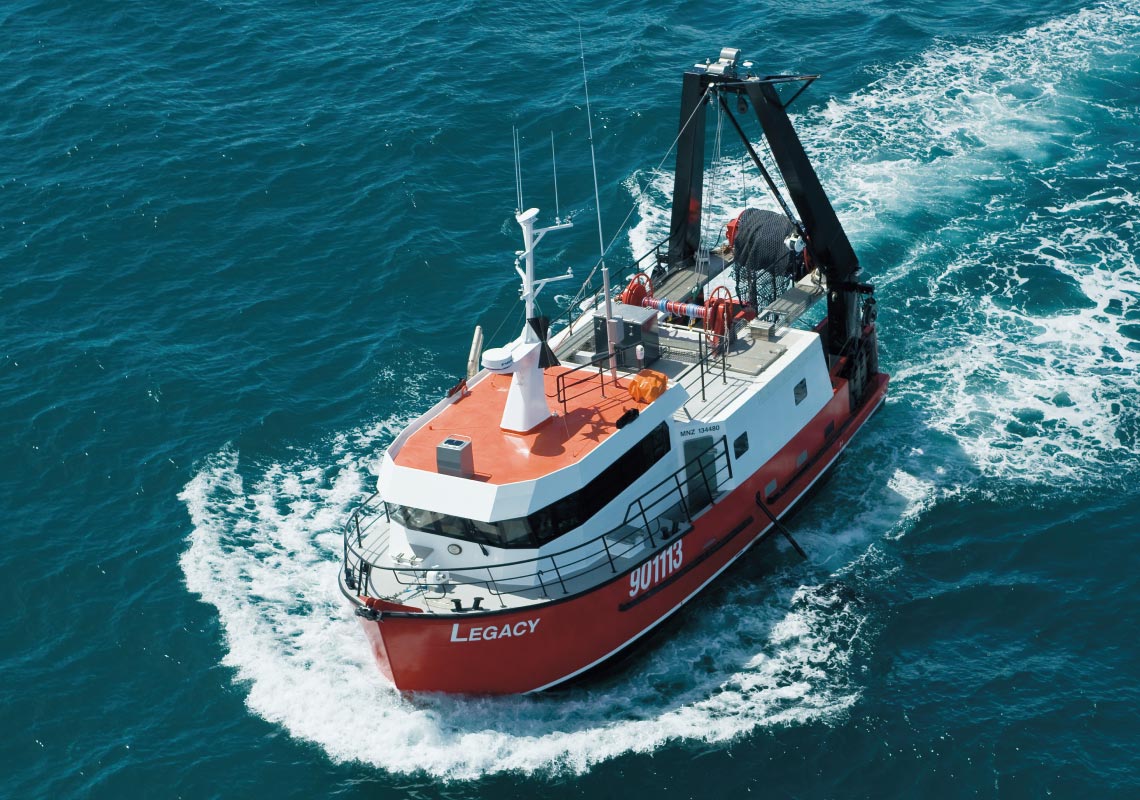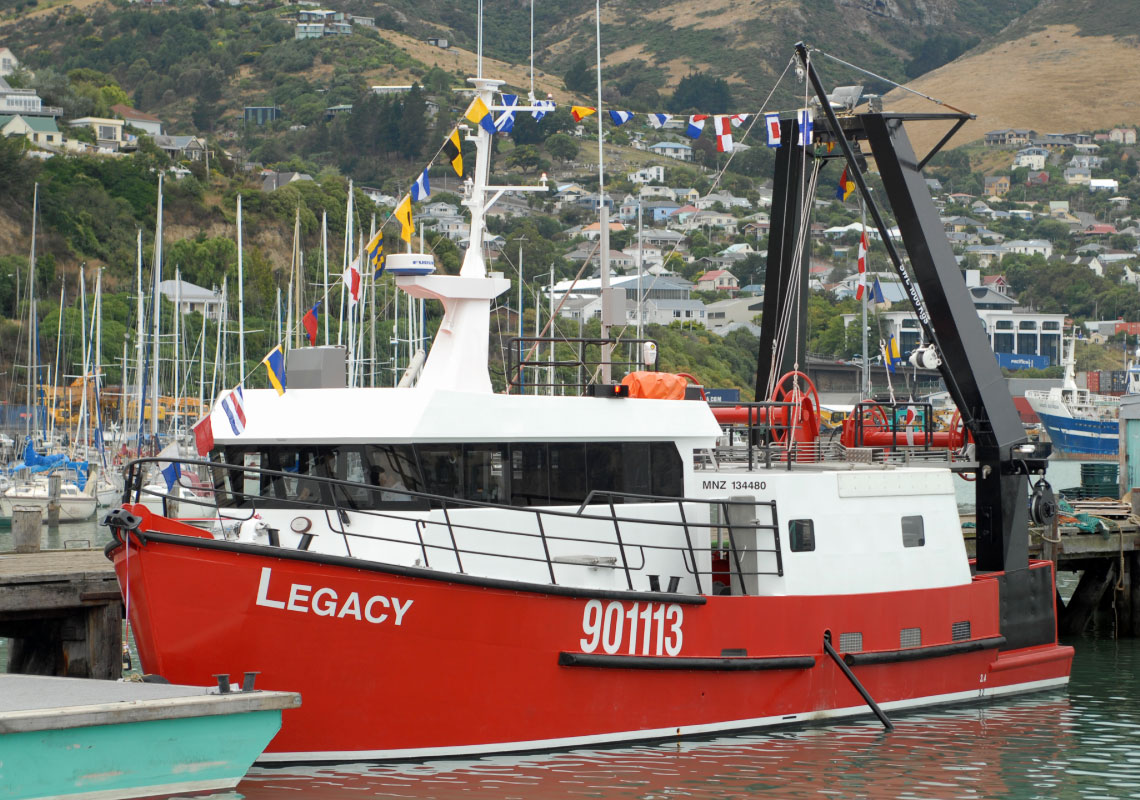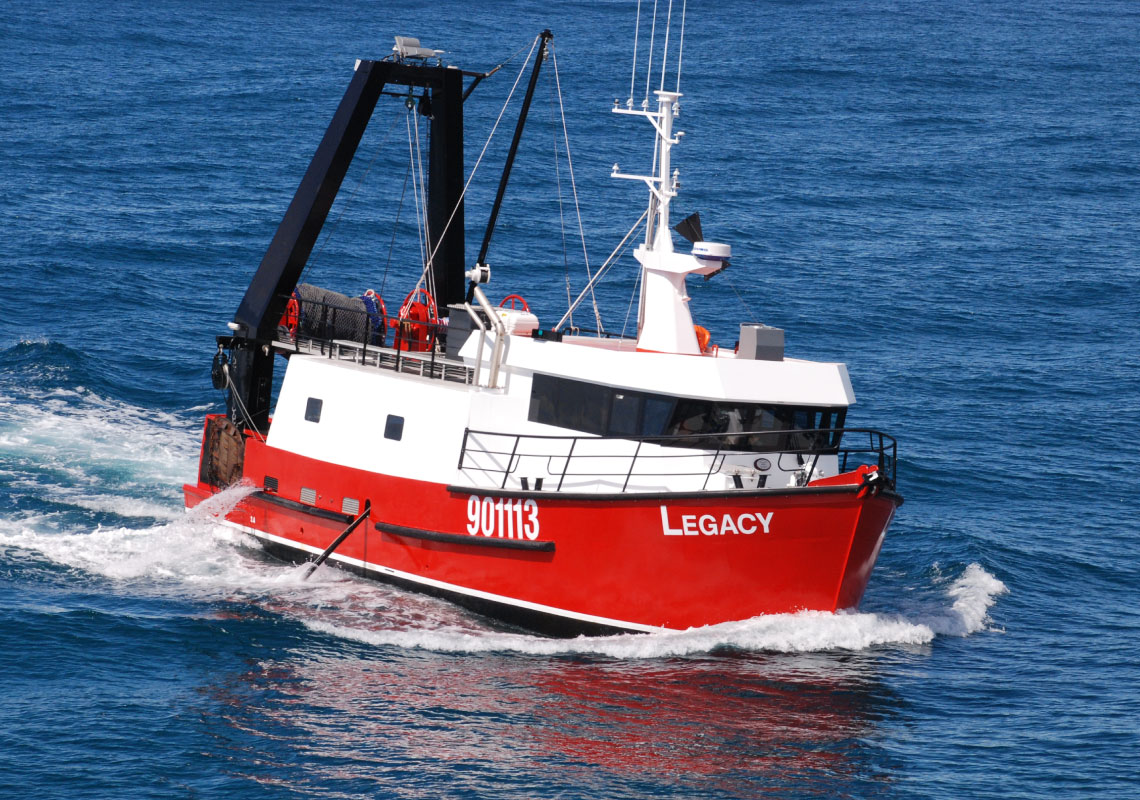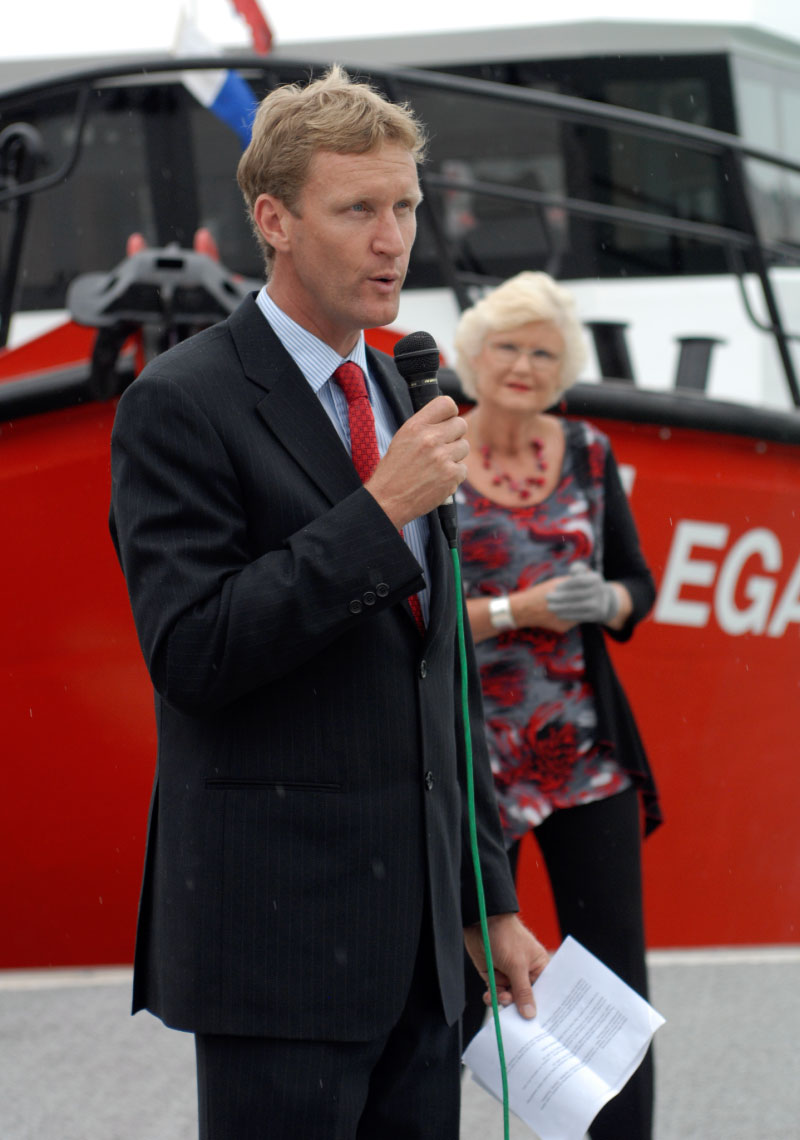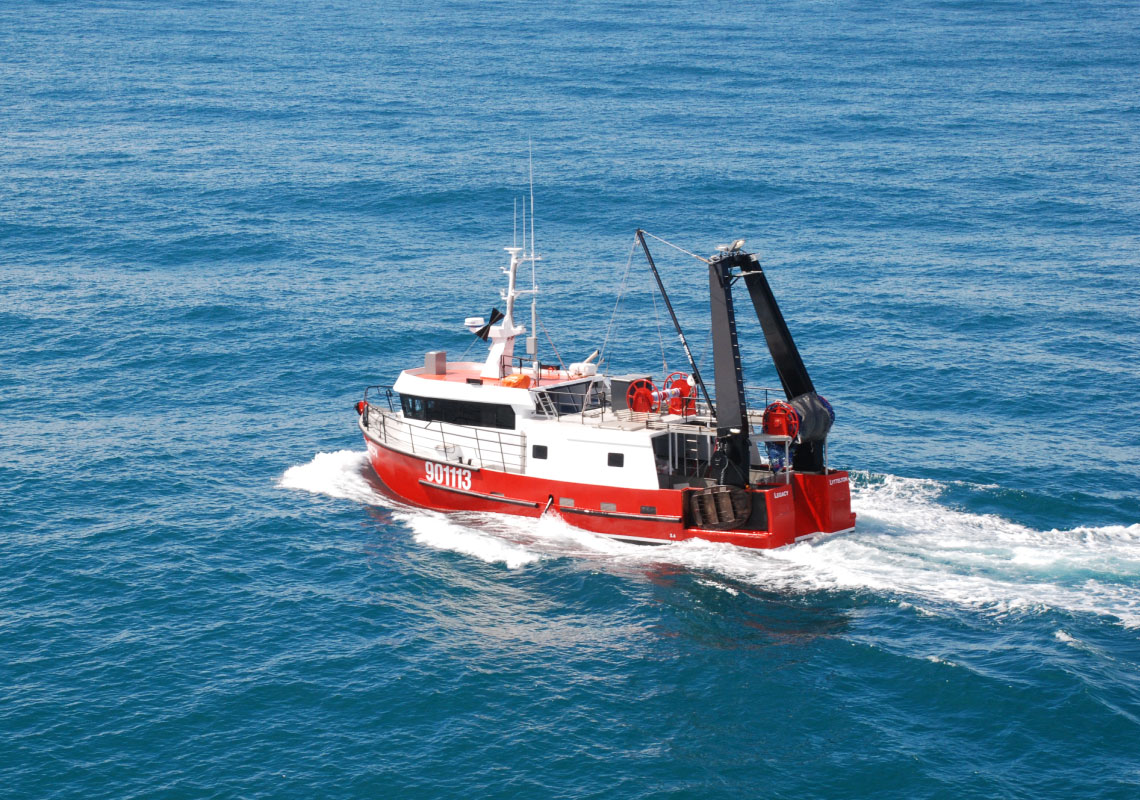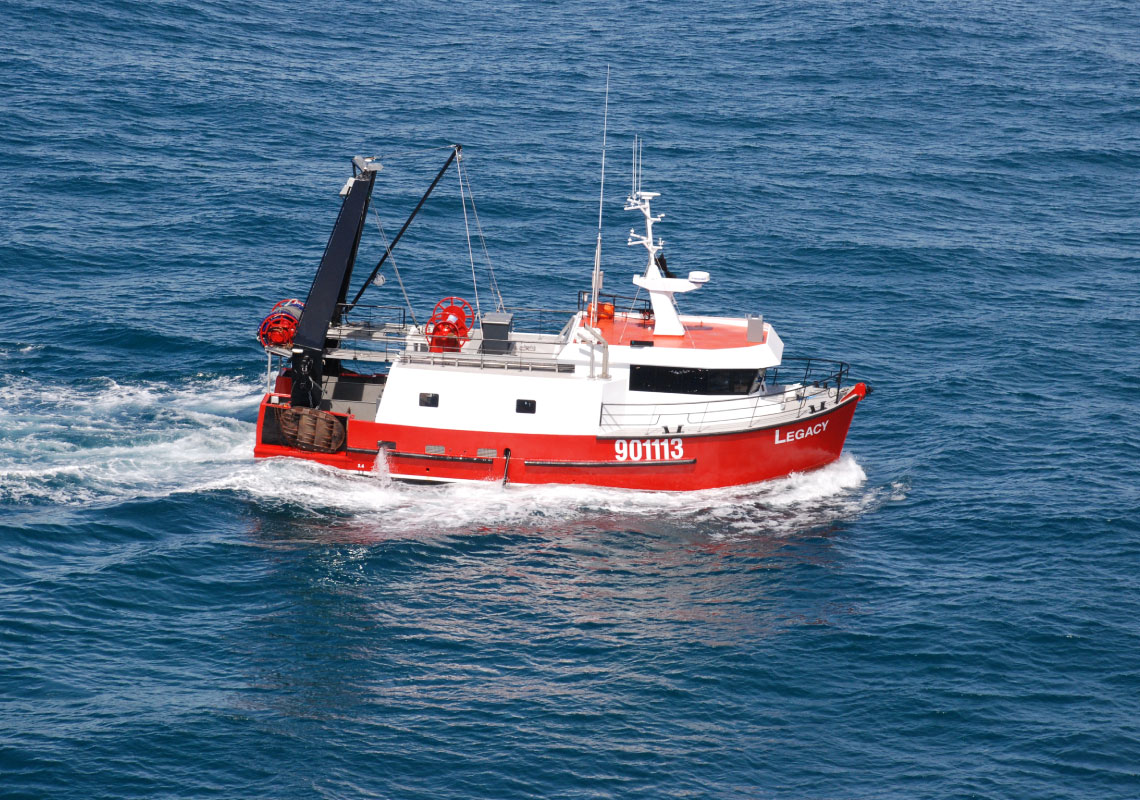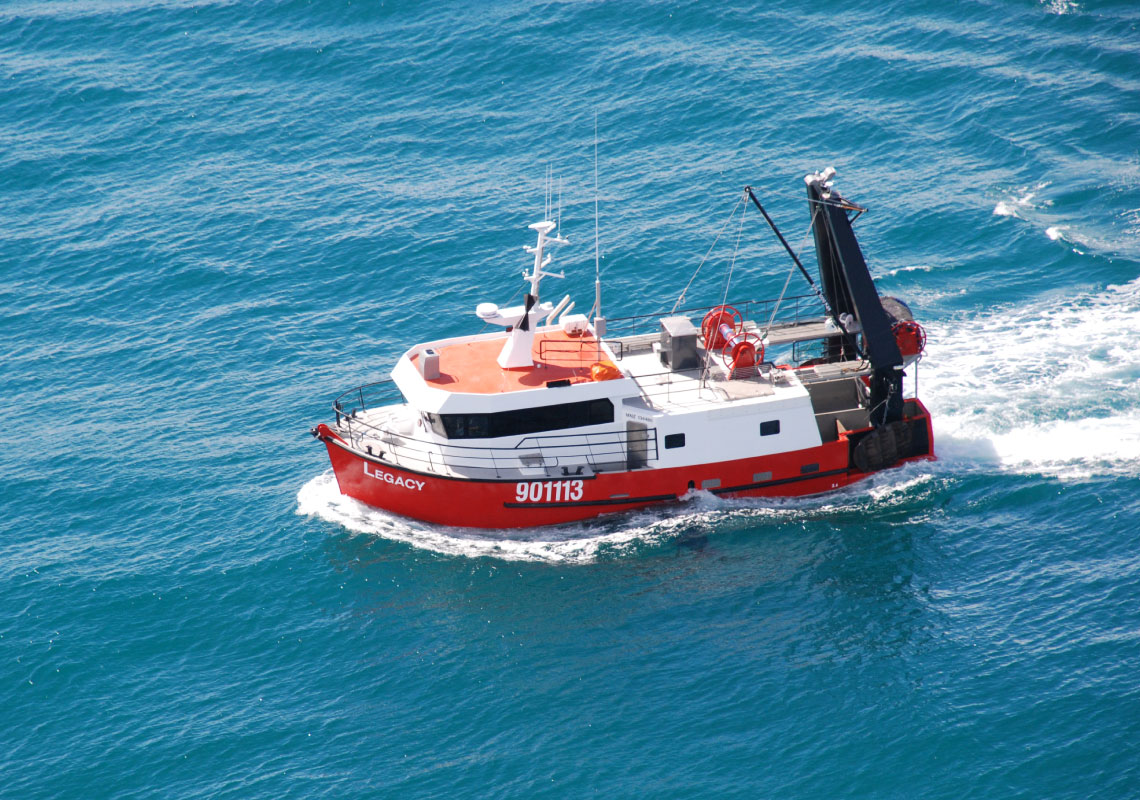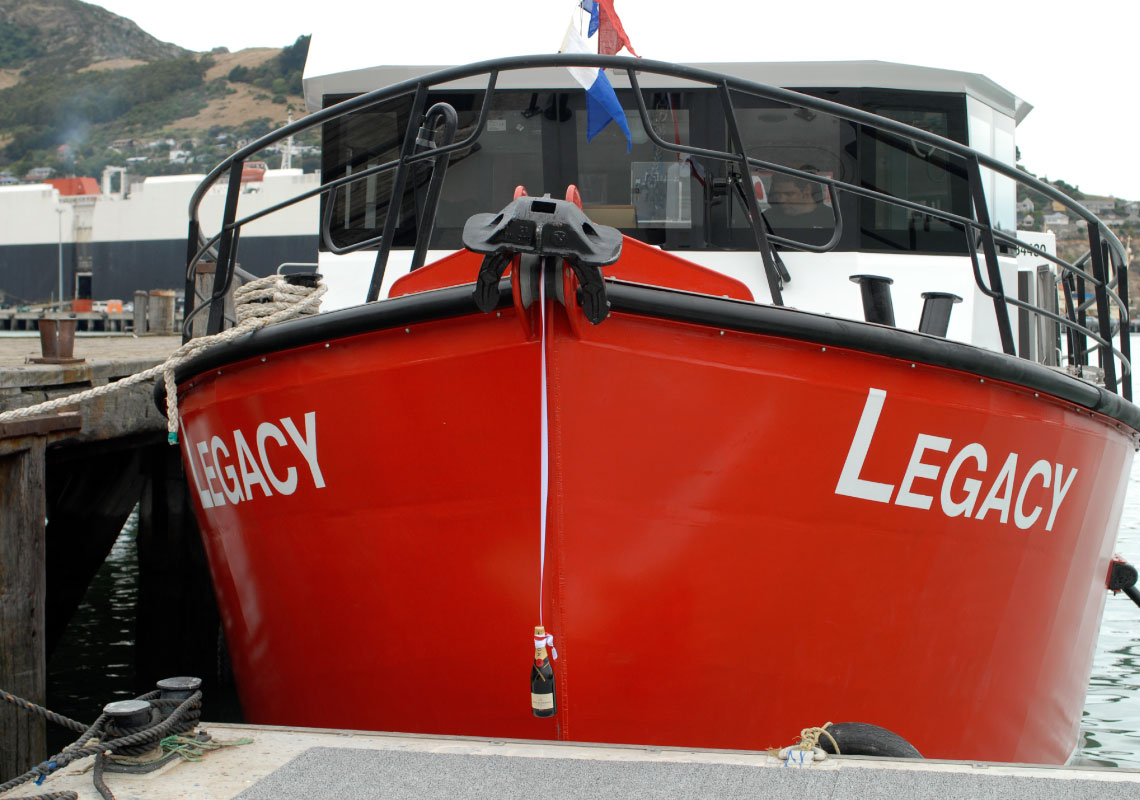 We also know that on this special occasion Frank Stark would have been quick to recognise the big part that family and loyal staff played in enabling the businesses to operate and grow.
And when it comes to staff, none come to mind more than John Hall for the very special part he has played in these businesses.
John started with Stark Bros in 1963 and has been actively involved with all boats built, so with the launching of FV Legacy and John's coinciding retirement on 24/2/2012, the name is also a reflection of the legacy that John leaves with us.
Continuing the legacy theme, Elizabeth (Liz) Stark will perform the official launching duties — the 2nd occasion on which she has had this honour.
The first time as Liz Read — Frank's fiancée in 1967, Liz launched the FV Bluewater — the 1st commercial fishing boat Stark's built for their own fishing operations some 45 years ago.
The FV Legacy is fully equipped with a variable pitch propeller, onboard salt water ice maker, computer controlled split hydraulic winches with auto scrolling, and will fish alongside our other vessels — FV Frontier, FV Jubilee and FV Nessie J on the East Coast South Island, fishing depths from 10m to about 500m.
We are also extremely excited to have commissioned Electronic Navigation to supply and install their 160khz WASSP — Wide Angle Sonar complete with advanced Navigator 2D/3D seabed profiling software.
We trialed this equipment on another vessel and were immediately impressed and see this as a breakthrough fishing tool, collecting and retaining an array of information then converting it and displaying as easily understood 3D imagery — well done to Electronic Navigation a strong NZ Owned and Operated Company.
We understand the FV Legacy is the first commercial fishing trawler in NZ to have the system installed — once again Stark Bros Ltd are showing leadership in technology on their vessels.
This vessel, as with our other vessels will also be running on high blend BioDiesel (B60) supplied by Biodiesel New Zealand (a subsidiary of Solid Energy NZ).
Specifications:
| | |
| --- | --- |
| Type of craft: | Stern Trawler |
| In Survey to: | NZ Offshore Fishing Vessel 200nm |
| Home Port: | Lyttelton, NZ |
| Owner: | Randolph Fishing Ltd |
| Operator: | Ocean Fisheries Ltd |
| MNZ #: | 134489 |
| Radio Call Sign: | ZMW9337 |
| Fishing Number: | 901113 |
| Designer and Builder: | Stark Bros Ltd. |
| Construction Material: | Steel |
| Length Overall: | 16.80m |
| Design Water Length: | 16.28m |
| Beam: | 5.60m |
| Draft: | 3.20 |
| Displacement: | 115 Tonne |
| Free Running Speed: | 9 knots |
| Main Engine: | SCANIA DI12 59M 350 HP @ 1800 rpm |
| Gearbox: | Hundested Marine Gear CPG-32 9.05:1 |
| Propeller: | Hundested Variable Pitch 9½ HP/HP, 1800mm diameter, 3 blade, LH Propeller |
| Bollard Pull: | 6.4 tonnes @ 1800 rpm |
| Generator: | Kohler Marine genset 28EF02D 3 phase, 28 KVA |
| Steering: | Hydraulic operated single blade rudder |
| Nozzle: | Stark Bros Fixed Nozzle |
| Radar: | Furuno ARPA Radar M1835, 36nm colour radar |
| Compass: | Saura MR-150 |
| Depth Sounder: | Furuno FCV295-NT |
| Sonar: | WASSP WMB-160F Multi-beam sonar |
| Radio SSB: | Icom IC-M801E SSB Radio |
| Radio VHF: | Uniden Oceanus UM415 VHF Radio |
| Auto Pilot: | Furuno Nav pilot 700 |
| GPS: | Furuno SC-30 Sat Compass |
| Chart Plotting: | SeaPlot PRO |
| Watch Alarm: | BHM autopilot watch-keeping alarm |
| EPIRB: | Kannad 406 float free |
| Trawl Winches: | Stark Bros Hydraulic split winches, computer controlled, auto scrolling/wire counting,1800m x 14mm wire per winch |
| Cod End Winches: | 2 x Rotzler TC2 |
| Unloading Winch: | 1 x Rotzler TH1 |
| Net Rollers: | Stark Bros – 1 x Main, and 1 x spare net roller |
| Fish Hold: | 40 cubic metres capacity |
| Refrigeration: | Brema Saltwater Ice Maker, 1500kg /24hr and cold wall refrigeration panels in fish hold |
| Paint: | International Paints |
| Liferaft: | RFD Surviva 4 man SOLAS A pack |
| Fuel Capacity: | 9500 litres |
| Fresh Water Capacity: | 3100 litres |
| Lube Oil Capacity: | 820 litres |
| Waste Water Capacity: | 60 litres |
| Hydraulic Oil Capacity: | 1000 litres |
| Crew: | 3 |
| Date of Delivery: | February 2012 |
DOWNLOAD FV LEGACY SPECIFICATIONS